Is Your School Prepared?
Order Masks For The Upcoming School Year!
Have your school name, logo, or mascott
printed directly on the mask!

Non-Medical
Custom Cotton Knit Face Masks
Add a label for the students to write there own names.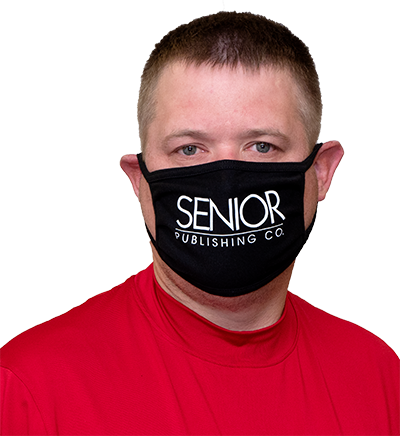 Mask Details
This budget-friendly, single-ply face covering is breathable, comfortable and designed to cover the wearer's nose and mouth. Earhole slots offer a customized fit. Not to be used as a substitute for surgical face masks or N-95 respirators.
One Size Fits Most..
Single-ply 5.5-ounce, 50/50 cotton/poly.
Two 2-inch earhole slots on each side.
Measures: 14" x 5".
Non-returnable.
Non-medical use only.
Mask Prices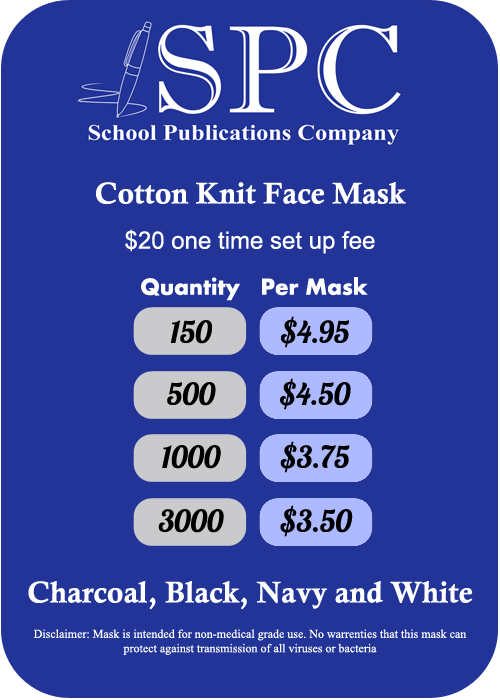 Call our office for more information or
pricing on orders over 3000 masks.
Disclaimer: Mask is intended for non-medical grade use only.
No warranties that this mask can prevent against transmission of viruses or bacteria.
School Publications Company has been printing for schools accross the nation for over 75 years and is dedicated to making sure the quality is perfect.
We print newspapers, yearbooks, literary magazines, course guides or anything else you need. Call us at (888) 543-1000 .